Hey guys, just wanted to share a story and do a small write up on my friends experience with his M5 over the past few months. I have been there step by step with my friend while he has modded his M5. A nice experience to me aswell as I got to see what mods did what, and how this lovely V10 responded for my future reference when I mod. My friend isn't a forum type of guy, so I'm telling his story as he urged me to share it. So let's begin the story.
About the car:
2010 M5 SMG 3x,000 miles
ESS tune
ESS SMG tune
RPI oem catless headers with ceramic coating and wrap
RPI oil cooler
RPI scoops with BMC filters
RPI GTS exhaust
RPI pulley
As you can see within a one year period he dropped a lot of money modding the car, also adding install prices, and maintenance like plugs, diff, tranny oil, etc. He was a true modding addict and enthusiast for this S85 beast.
Tune wise, he started with ESS base tune only, then ESS+header tune, and finally ESS+header tune+ alpha N. Progressed nicely with the ESS tunes.
His car worked very well through all the mods and being tune only, and FBO with header tune. The ESS tune didn't give him any issues through these mods and time that were directly related from what we could tell, power was OK, not the most consistent but OK. (really don't know how bad a tune is until you try a better tune, will get to that later)
Where the issues startedÖ.
What to mod next? Alpha N seemed like a good next step. So my friend got the ESS alpha N hardware and alpha N software from ESS. Installed the hardware, and uploaded the software, and this is where all hell broke loose.
Right after flashing the car, it began throwing 02 sensor codes, all kinds of codes for both top and bottom sensors but for mostly the pre-cat 02 sensors. WTF? I was confused as hell. Put some miles on the car thinking they might go away, cleared the codes multiple times, they just instantly kept coming back. Contacted ESS, they said cant be the tune, its programmed for catless headers and alpha N.
OK, my friend tosses out the money for new pre-cat sensors on both sides and install even though the car never had this issue before and car has under 40K milesÖ Installed new 02 sensors, No change! We try uploading the stock file, tune only file, tune+header file, etc and nothing works, car stays in limp mode and runs horrible, continues to throw 02 sensor codes. Even going back to the old header tune with alpha N uninstalled we were getting the same issue now.
OK I checked the 02 sensors fuses for him, checked the wiring, everything checks out. How can these codes just pop up out of no where right after the alpha N software upload on a 3XK mile car? Seems like the alpha N tune from ESS did something wrong. And all the hardware retaining to the 02 sensors is perfect, double checked by a mechanic.
So after contacting ESS numerous times for help and suggestions throughout this ordeal, they would just keep giving generic answers like, not our tunes fault, it is a hardware problem, bring it to the dealer. They went as far as to say they donít have time to troubleshoot this with him as hardware issues are time consuming for them! Go to the dealer again.
Really I was in shock ESS didnít try to send him another tune, or adjust the tune or give him suggestions on what to try via tuning. They left him high and dry! Really lost respect after seeing what they did to him, I felt my friends pain as he loves his M5 as I do and would hate to be in this situation. It seemed 100% tuning related since the issue popped up right after flashing it with the Alpha N tune. After researching on the forums, it seems this has happened before to a member as well with ESS, where he flashed his car via ESS and the codes that were thrown keep coming up even after going back to stock tune. My friend had to no choice except to find the best indy he can and leave his car with them to try to figure out what in the world is happening even if it means reverting the car back to 100 % stock.
Fast forward 2 weeks later, trying to fix the issue at a mechanic shop. Went as far as changing some type of CAS computer and the alternator to no fixing of the issue. Just more money dumped after this mystery ESS alpha N flash tune made the car go nuts. Car was basically just a loss!
So now the superhero comes into play. Sal and imran @ Evolve automotive and the evolve team..
I suggested to my friend he contact and try to get a tune from evolve since there so knowledgeable on the S85 platform and own one, and still to this day are tuning them. If anyone has most experience around the S85 ECU, how the ecu reacts and tuning them, its evolve. They would be able to solve this issue if its really tuning related.
So with no other option then to sell the car or buy a new expensive ECU from bmw or who knows what else that would cost thousands. So he called evolve, told them his story and issues, got the evolve alpha N kit. They went above and beyond helping him, making him feel comfortable while explaining the process to him. They sent him a file to upload and then the alpha N tune upload and he loaded it up and Guess what? Not sure how he did it or what he changed but he works magic!
NO CODES! Car was running flawless! No more limp mode, no 02 sensor codes, car was idling nice and smooth like stock. ESS idled high and rough.
Throttle response in M mode is amazing! Just has such a great feeling putting your foot down, my friend was blown away by the drivability and response over the ESS tune.
The midrange and top end power was down right scary. We took the car for a test drive last night so I can directly compare his old ess tunes vs this new evolve tune, and to say the least, the power was astonishing, I was so addicted! Car was just jumping and taking off like a rocket! The car was going by RPMS so much faster it was incredible! An important thing to also note was the consistency! Back to back runs, the car didn't even hiccup once, and gave the same exact hard pull each run with no variance which really shows how well a tune shines, ! My friend is just thrilled his car is in working order and now with even more power! Honestly, the ESS tune felt good, but you donít really know how good a tune is until you try a tune that is better. Then you know what the other tune was lacking, in this case, drivability, midrange/top end power, and consistency.
I'm not biased in anyway, I don't even own a tune, but I thought this story I would share to show Evolve passion, knowledge and customer service! Not sure if ESS has to re-evaluate their tuning and alpha N tuning, but also their customer support! My friend is beyond angry with ESS as he was a very loyal, pro ESS guy and thought they were top of the line in terms of BMW tuning, and was let down immensely, and left for dead by them. I know the E60 M5 is the older platform now but customer service shouldn't be put off because of this, especially when itís a tuning issue. Anyways, it was a very expensive and tough ordeal for my friend, I tried my best to help him in diagnosing throughout this ordeal, but glad he finally got it fixed with the help of Evolve, he only regrets not going with them sooner.
Here are some pics throughout his modding and issues:
First test drive with the evolve tune:
Evolve goodness
Evolve owner happiness:
ESS alpha N tune, high idle when fully warmed and stopped that ESS said was normal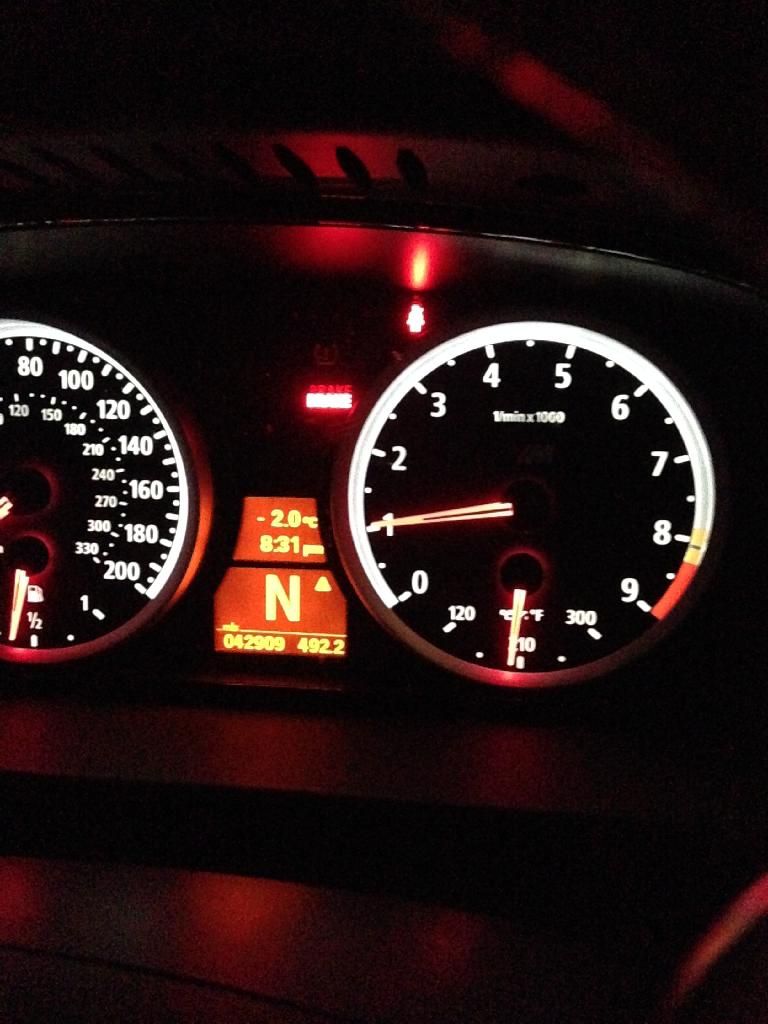 Vs EVOLVE stable, smooth nice idle under 1K
Late night flashing ESS tunes to try and fix the issue after flashing ESS alpha N tune:
RPI headers, coated and wrapped:
BTW do not go to Autocouture in NJ to do installs on any of your cars.. There installs are very sloppy and not professional. They installed my friends headers and didn't put back the oem heat shields, the main wire of the car sat and got burned on the headers! My friend had to bring the car to another Mechanic, who had to cut away the burned wires and individually re-connect all the wires! Or replace the whole main harness of the car just because of the Autocoutures improper and sloppy/lazy work! They also do very sloppy job on car wraps! But that is another story! Find another place for car work!
RPI oil cooler:
Stock vs RPI pulley:
RPI GTS exhaust:
I know what tune i will be getting this spring now as well