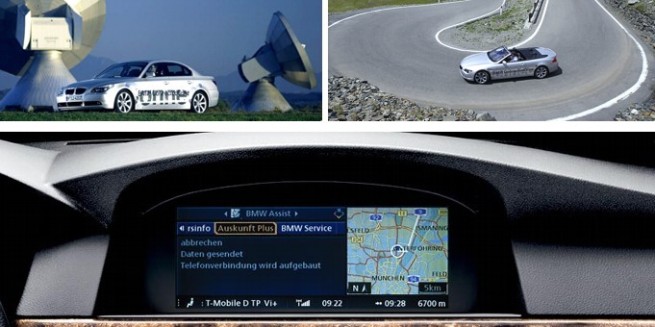 I must say I am not surprised as our BMWs are just pampered with technologies. Anyone ever get a chance to sit inside one of the new 7 series? It makes computers look like a piece of cake to use.
Just the vast amount of technologies available in BMWs from lane collision avoidance, to night vision, to even the new active-hyrbid technologies.
These amenities are just one of the great things about owning a BMW, Kudos to all BMW owners and fans alike!
From our friends over at BMWBlog:
BMW Wins Three "Telematics Update" Awards
Posted on: 10.06.2010
Author: Horatiu B.
Comments: 0
"BMW of North America received three awards at the 10th annual international Telematics Update Conference in Detroit, including the prestigious Global Car Manufacturer Award for BMW ConnectedDrive.
Also recognized was BMW's Enhanced Automatic Collision Notification system (Best Embedded Telematics Service Award), developed in cooperation with the William Lehman Injury Research Center. Francis Dance, ConnectedDrive Services Manager for BMW of North America, received the Telematics Leadership Award (Individual).
BMW ConnectedDrive is the name given to the collection of electronic systems designed to provide safety and connectivity to the driver and passengers of BMW vehicles worldwide. This comprehensive group of innovative technologies is divided into three main suites – Safety, Convenience and Infotainment. The Safety suite comprises BMW AssistTM, BMW's award-winning Enhanced Automatic Collision Notification, Head-up Display, Blind Spot Detection, Lane Departure Warning, Active Cruise Control and BMW Night Vision with Pedestrian Detection.
The Convenience suite includes BMW Navigation with Real-time Traffic info.; BMW Search and MyInfo. (Google send-to-car); BMW TeleService; driver's profile transferred via USB; Rearview Camera (now with Top View); Sideview cameras and BMW's new Parking Assistant, parallel parking feature now offered on the all-new 2011 5 Series Sedan.
The Infotainment suite includes Bluetooth® hands-free calling, iPod integration and hard-drive music storage; SiriusXM and HD Radio; weather forecasts and text-to-speech news. Later this year text-to-speech will expand to include text and e-mail messages.
BMW has long been an innovator in the arena of telematics with industry firsts such as in-car telemetry, first used in the World-Championship winning Brabham BMW FT-52 Formula 1 race car as well as the first fully-integrated onboard navigation system on the 1997 BMW 7 Series."
[Source: BMW ]