Done by Precision Sport.
The G-Power SK-II setup runs 9PSI and costs $41k + labor.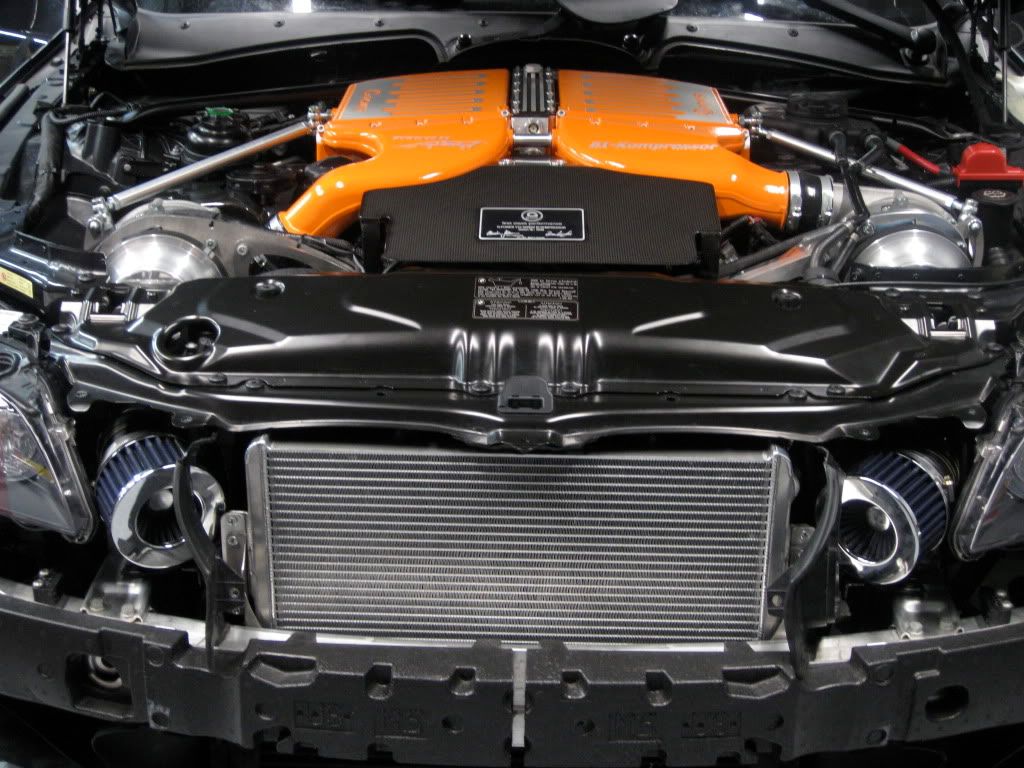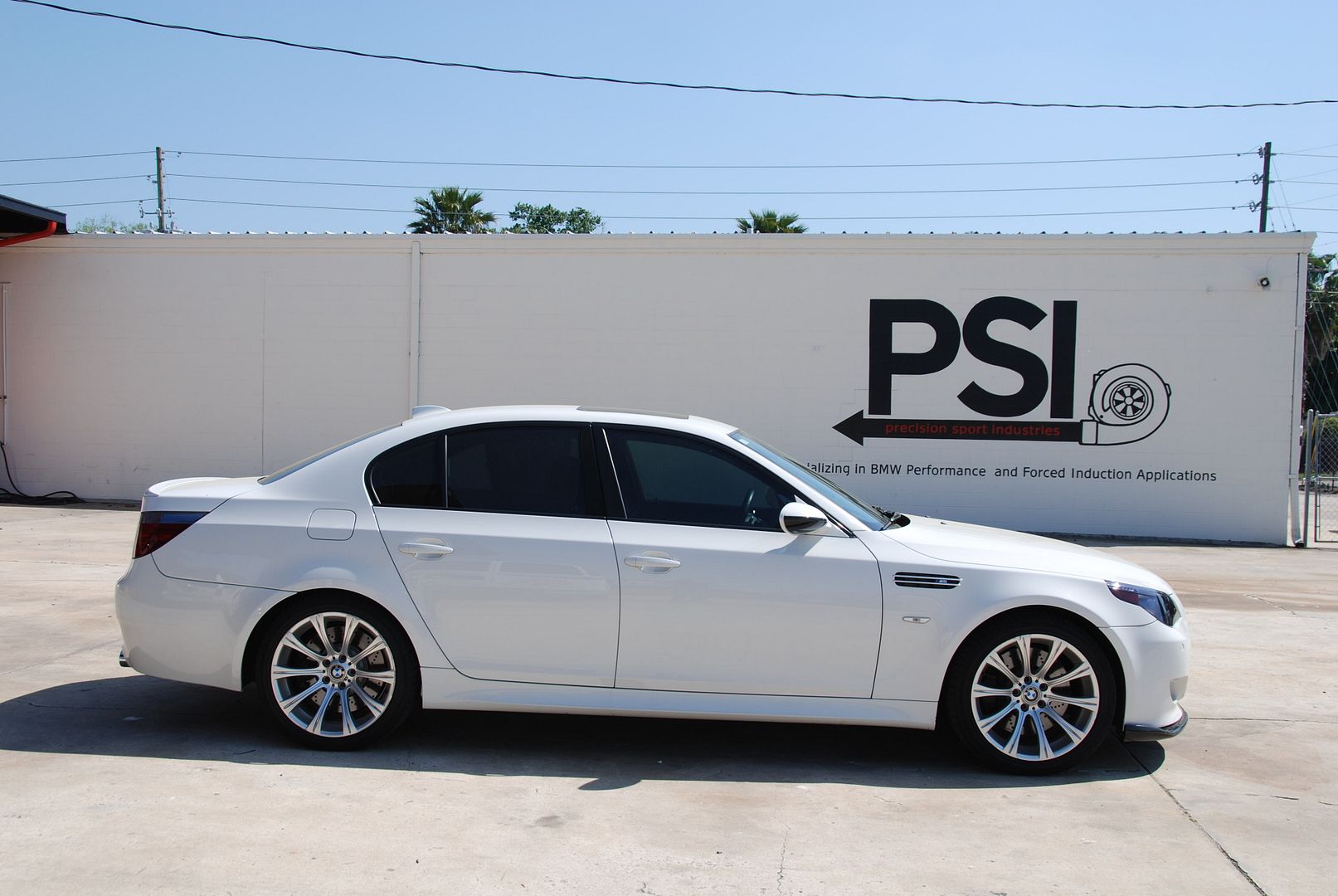 Quick shot of the intake runners before the OEM intake manifolds are removed. These are actually pretty important for N/A, but not so much for forced induction.
Intake manfold off
Valve covers coming off to weld oil returns in place.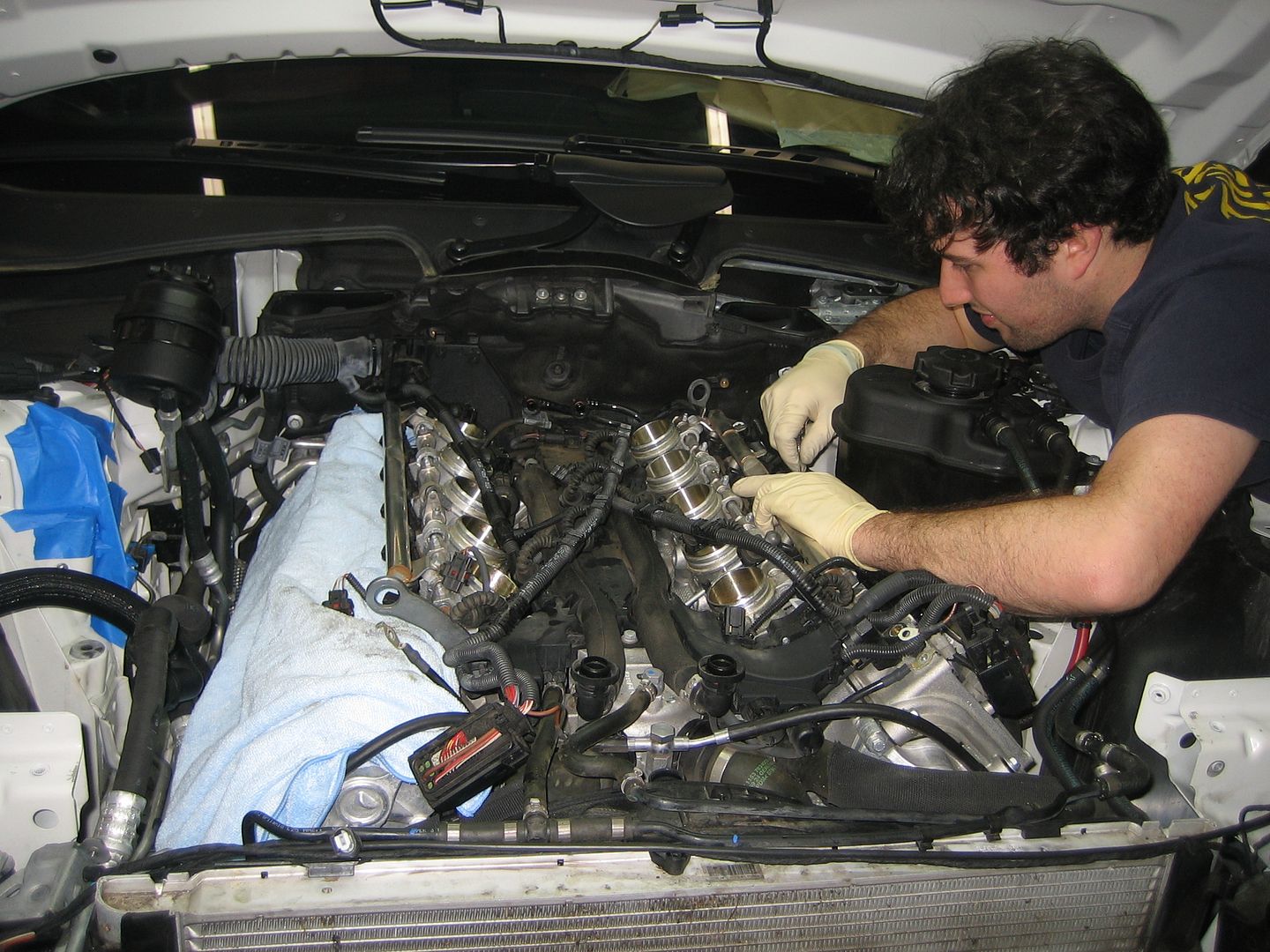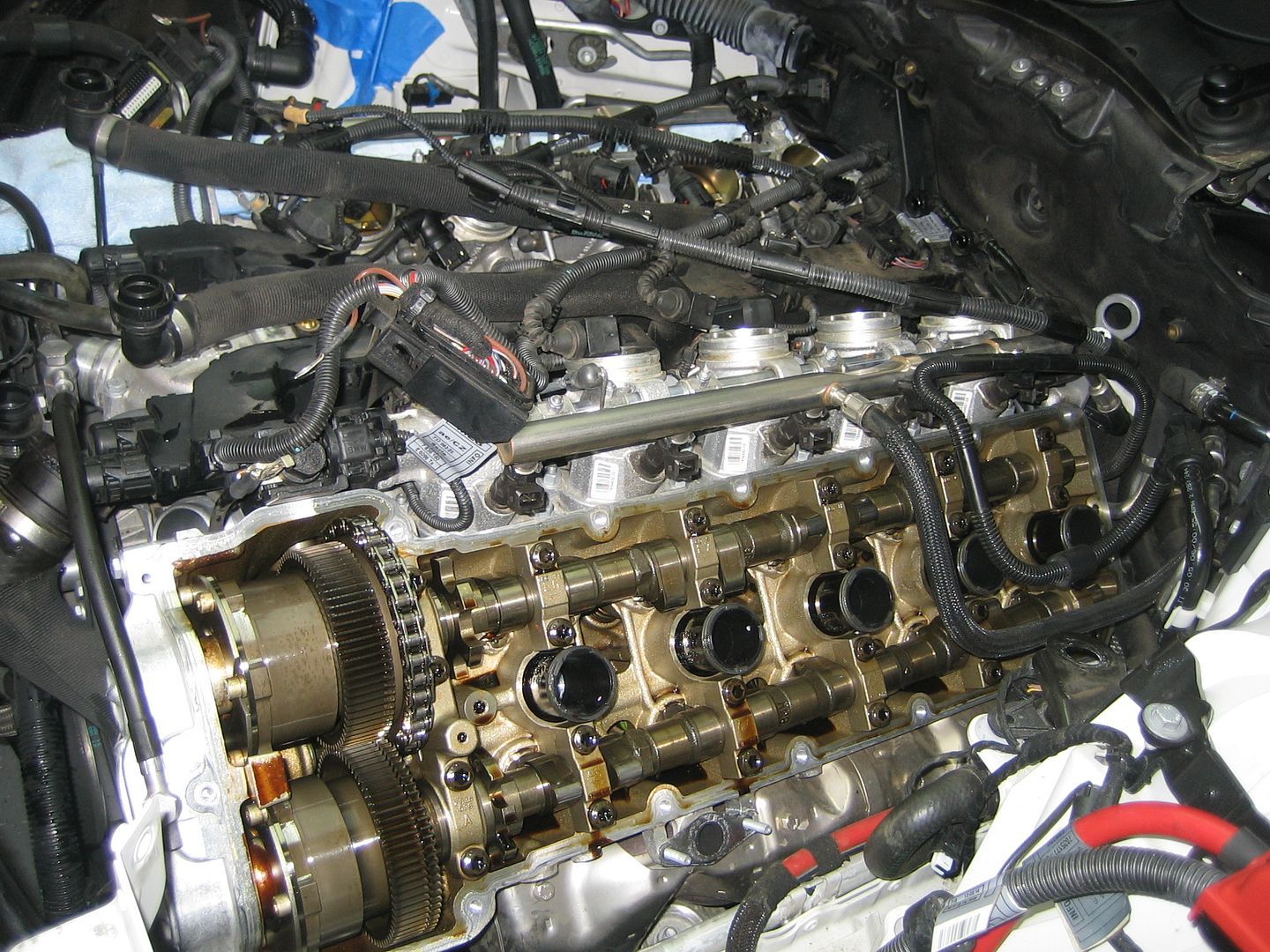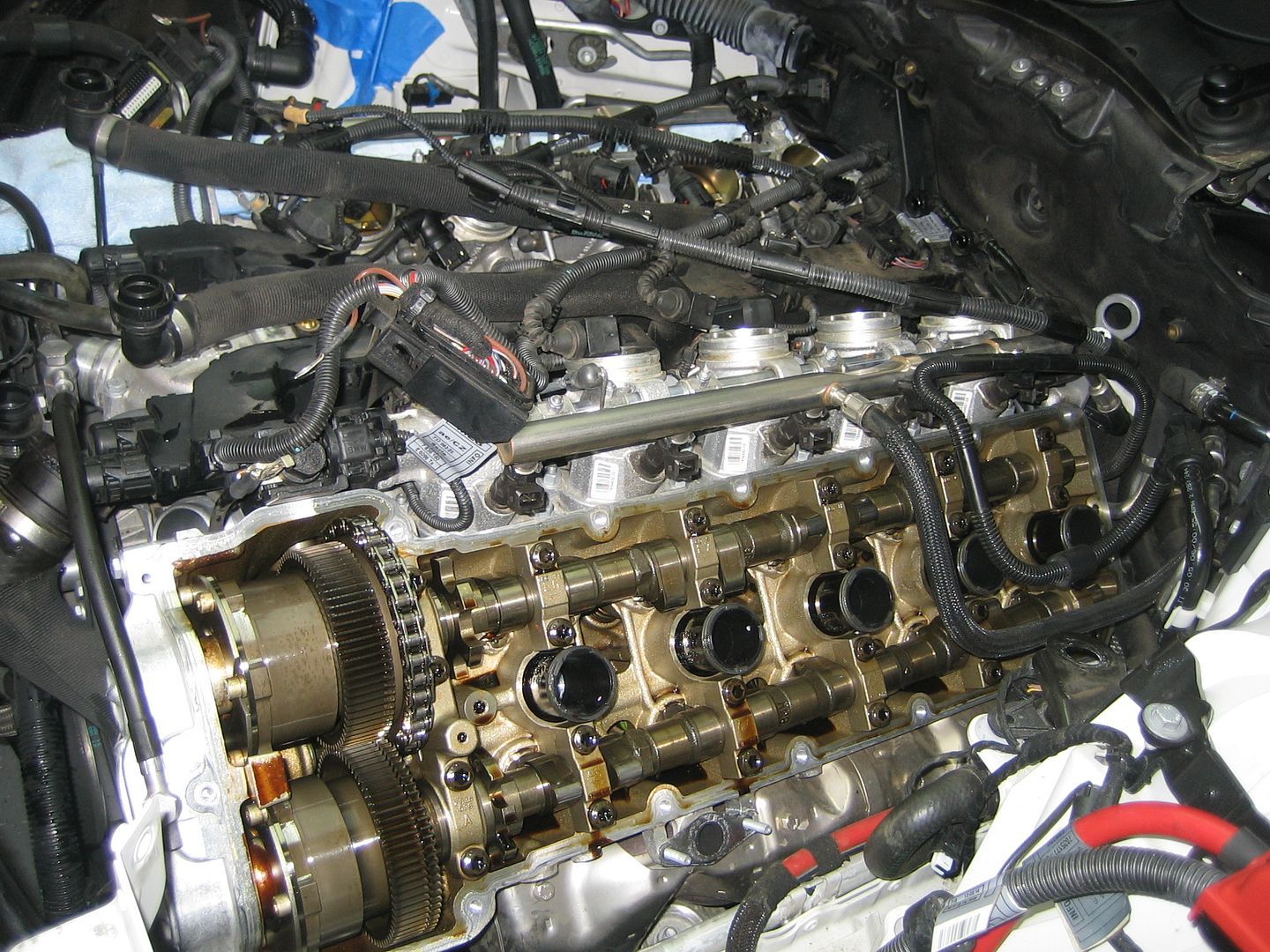 Injectors:
OEM fit, no modification necessary for the factory fuel rail.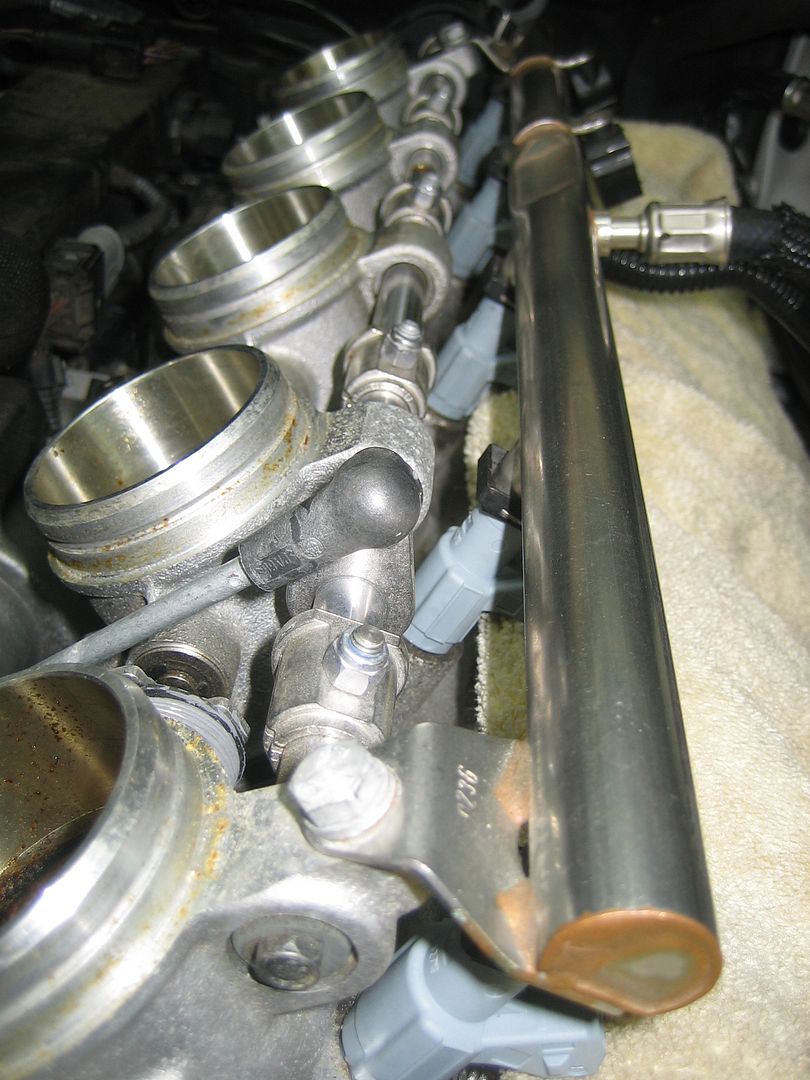 Super cold NGK Racing plugs are ready to go in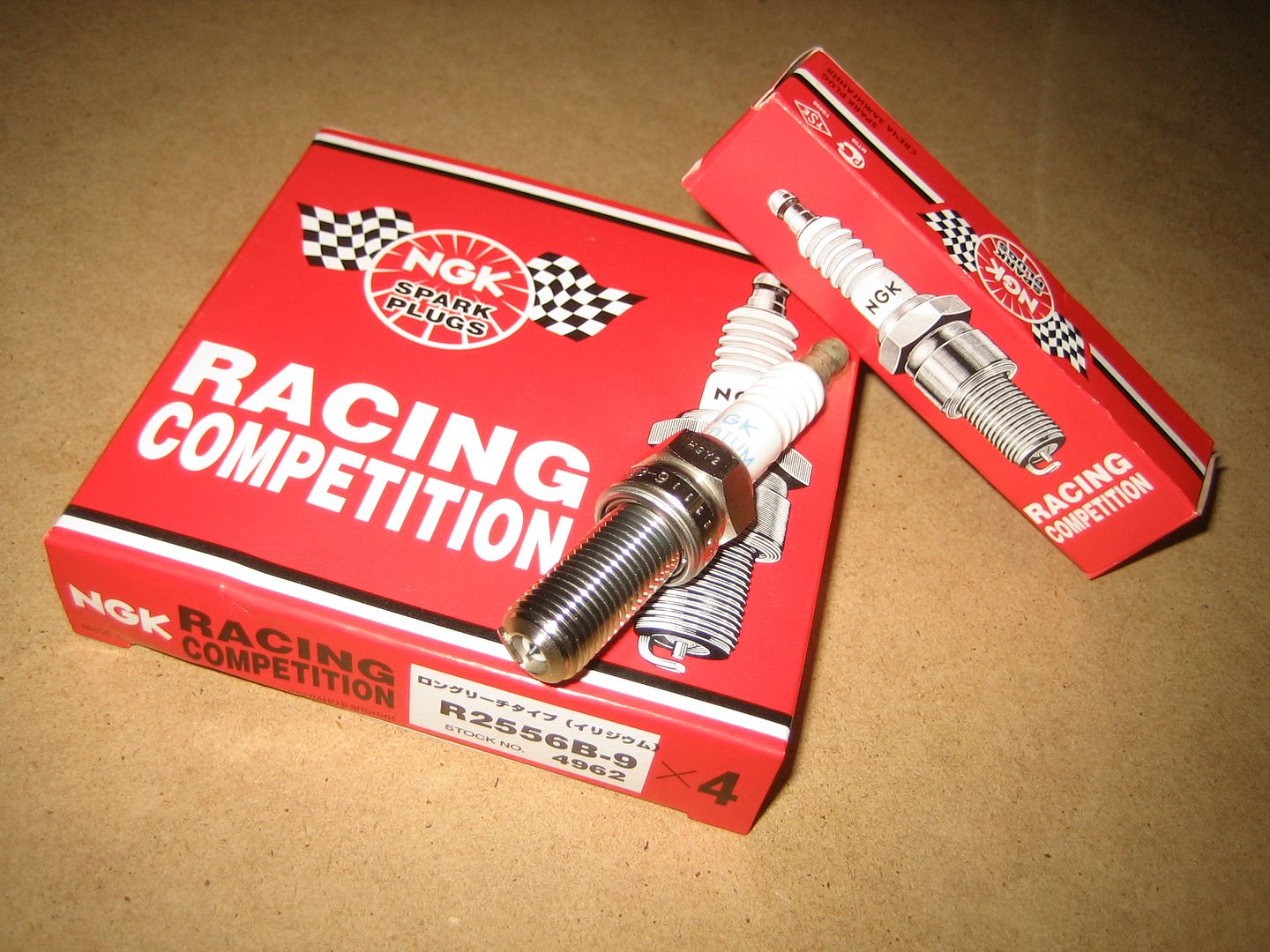 Taking bolts off the power steering pump and bracket it rests on
Bracket in place:
[img]http://i294.photobucket.com/albums/mm120/precisionsport/G%20Power%202/IMG_8244.jpg/img]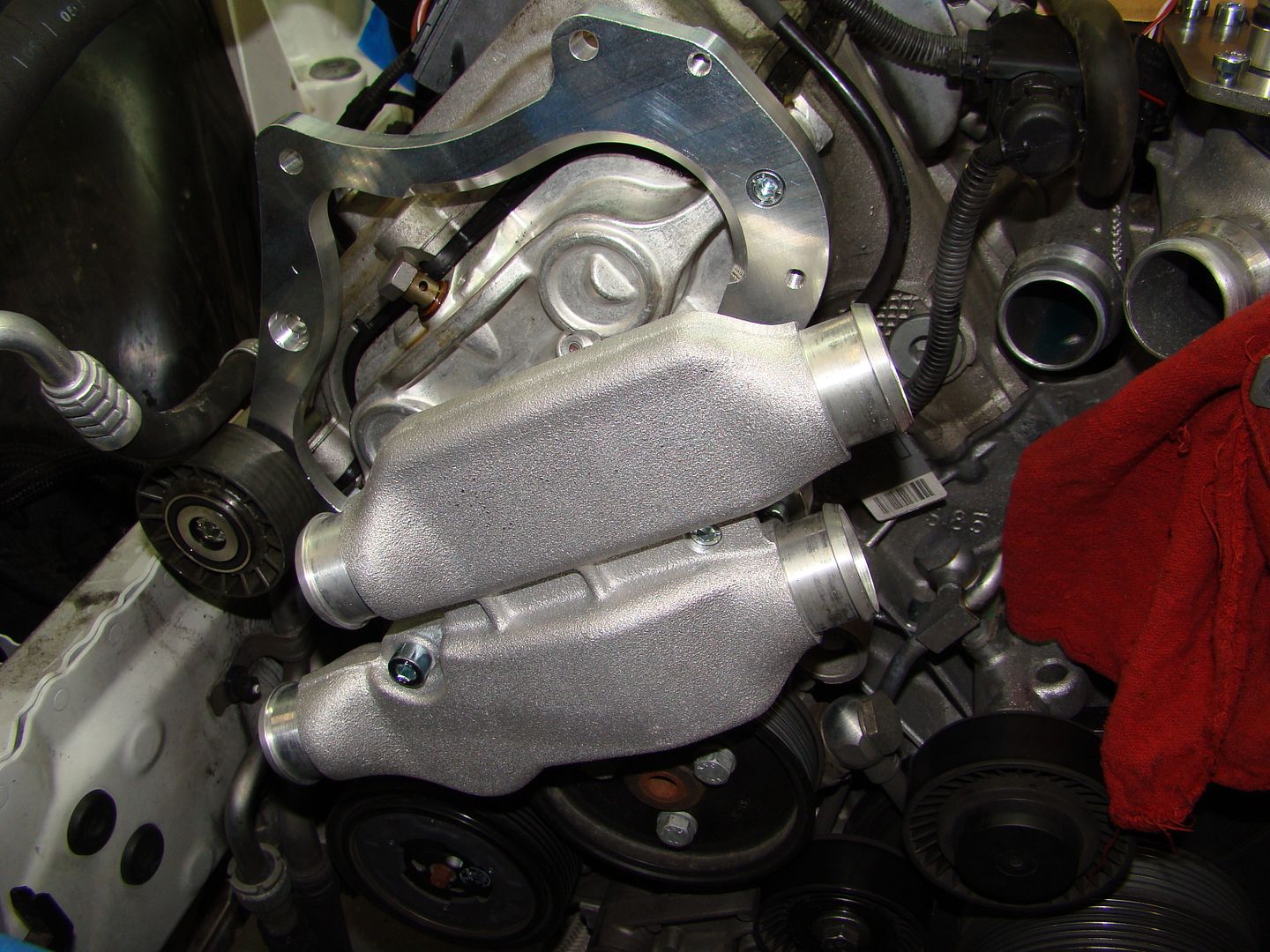 Next up it was the other bracket for the other charger. . .it's not every day you have to refer to the "other" charger in a kit. We need some sort of area to make the bracket solid, other than solely relying on the vanos bolts to the head.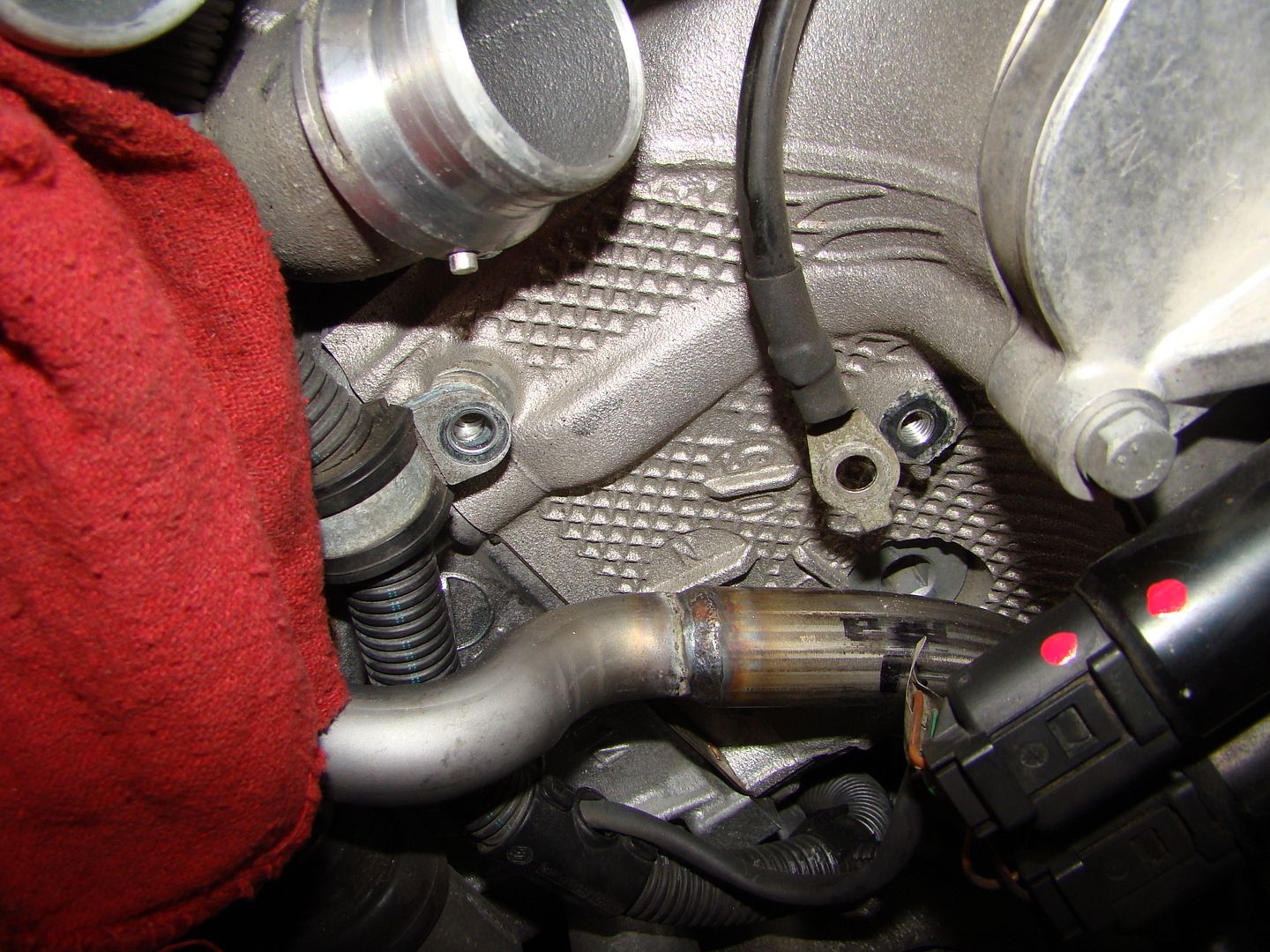 A nice rigid piece of billet aluminum and we're set!
Now a piece up top to tie it all together when the intake manifolds go back on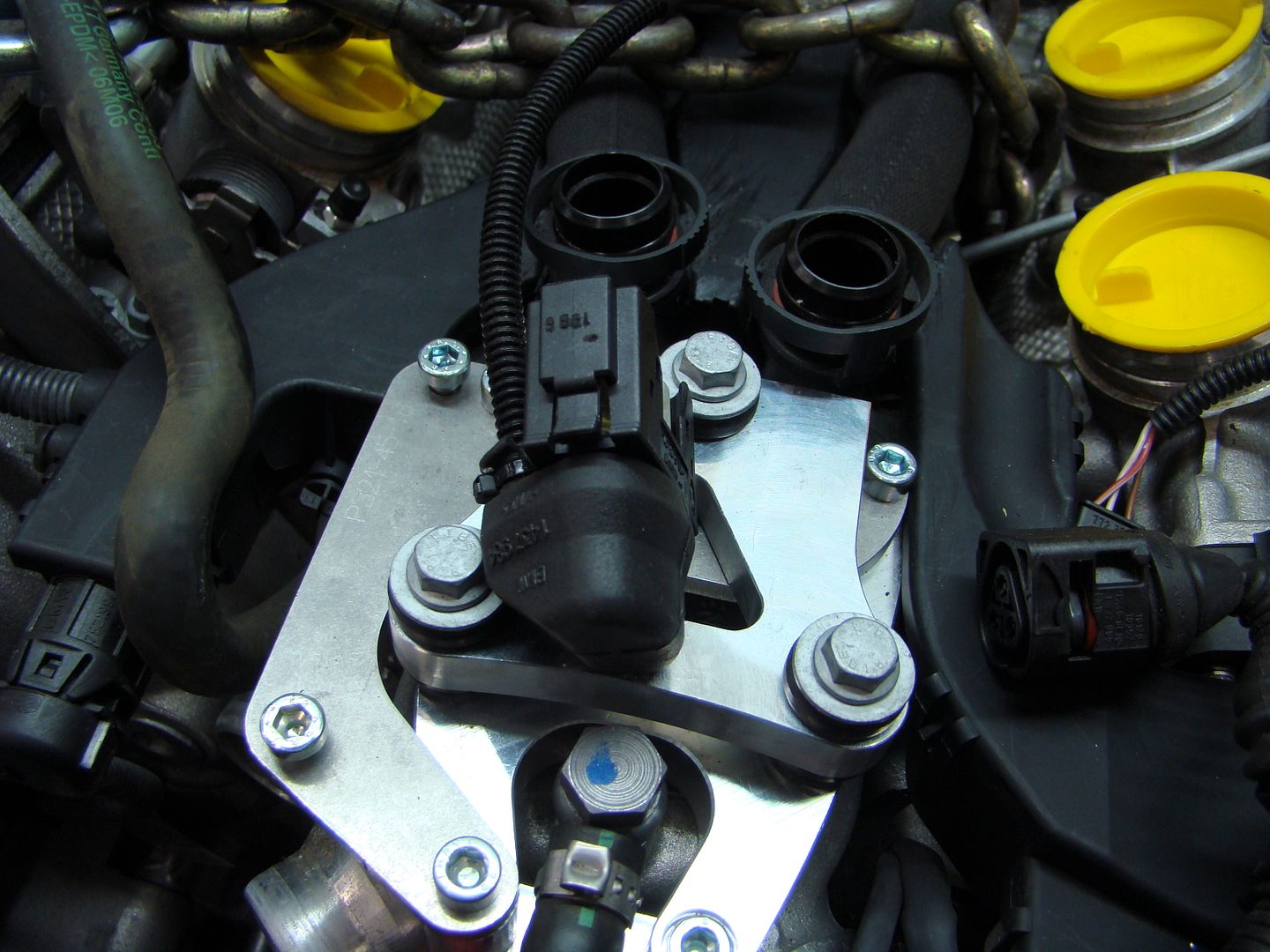 View from bottom: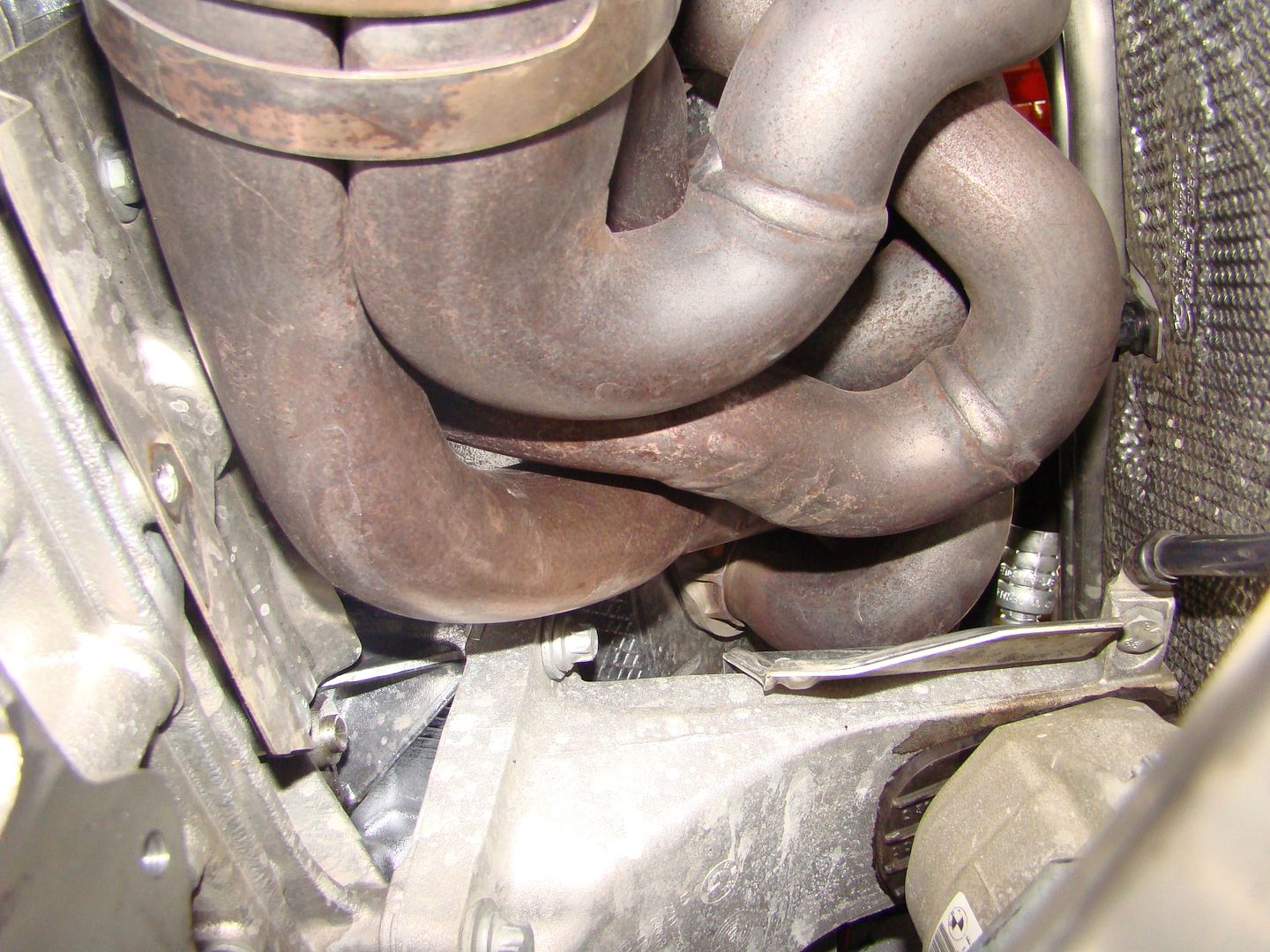 Now we can put the braces that will hold the intake manifolds in place, and solid.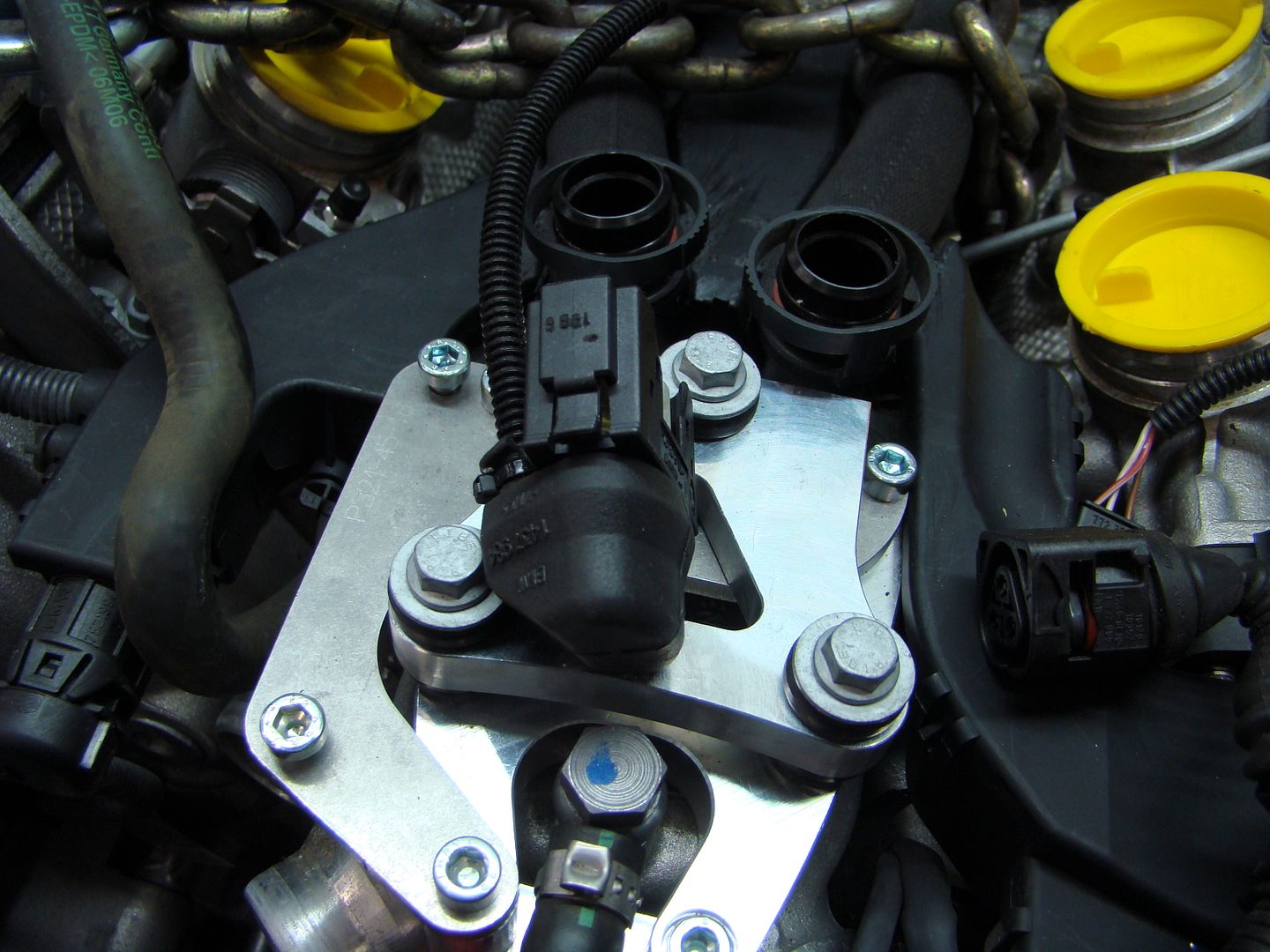 Brace that spans the throttle bodies to hold the manifolds up from collapsing on one another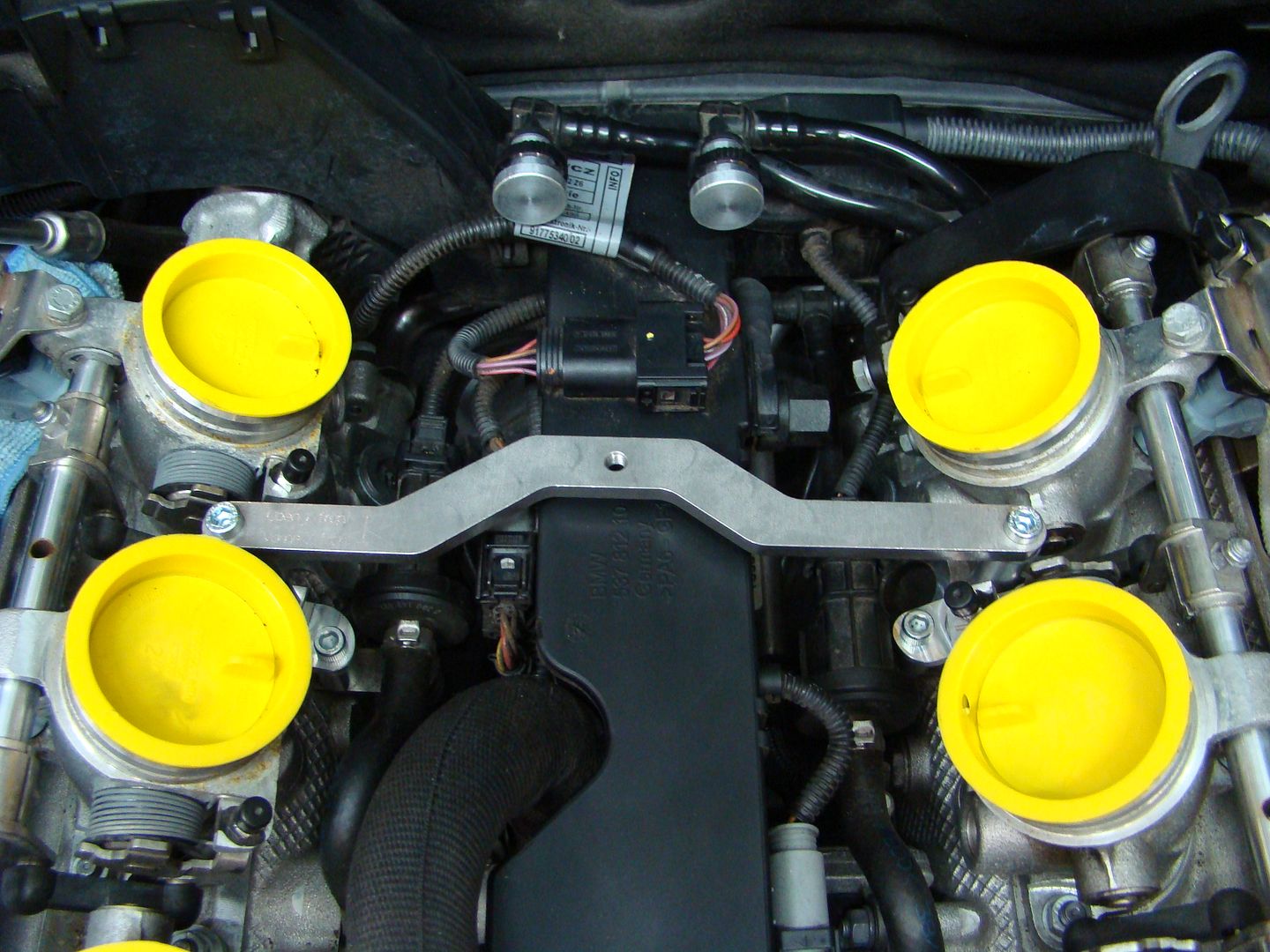 Don't forget to cap the OEM manifold's oil drains. . .these will no longer be used.
Before the pretty orange stuff goes on, a quick trim of the body where the passenger side supercharger will sit. This will be painted in OEM Alpine White to look 100% factory when done.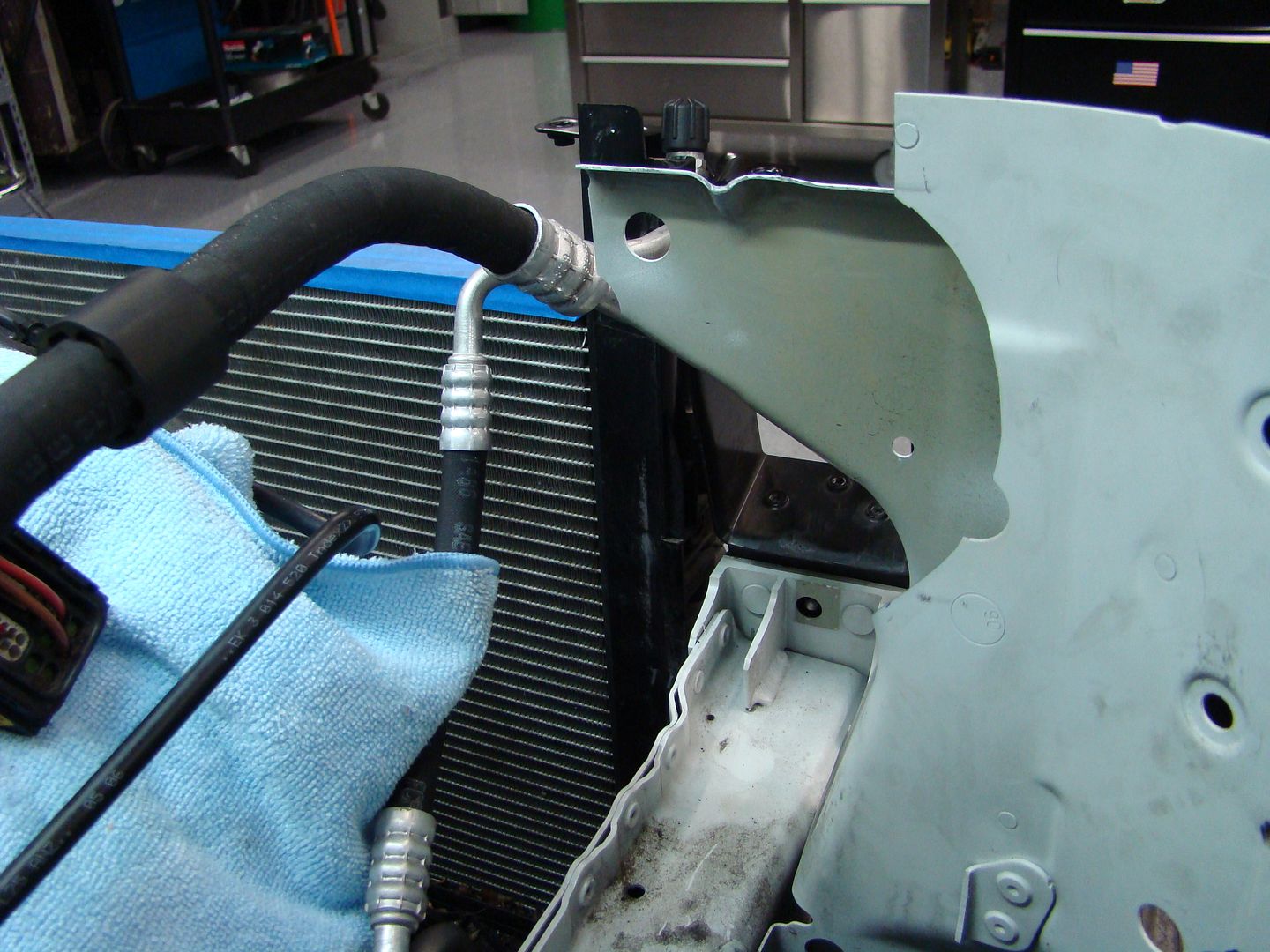 Relocate the battery line, to make space
Before the new manifold go on, and get assembled, we'll need to snag the OEM throttle body couplers, and re-use them on the new hardware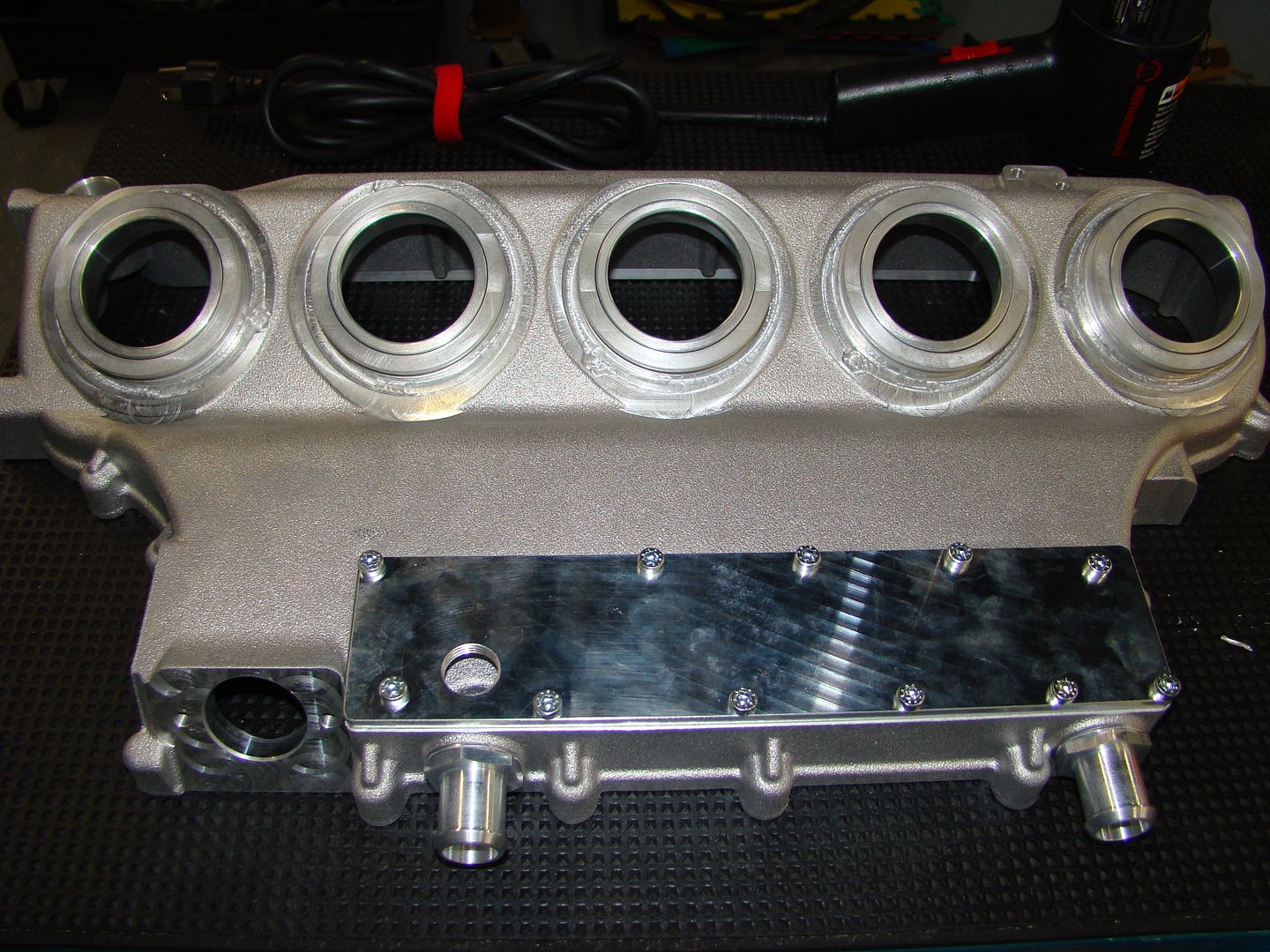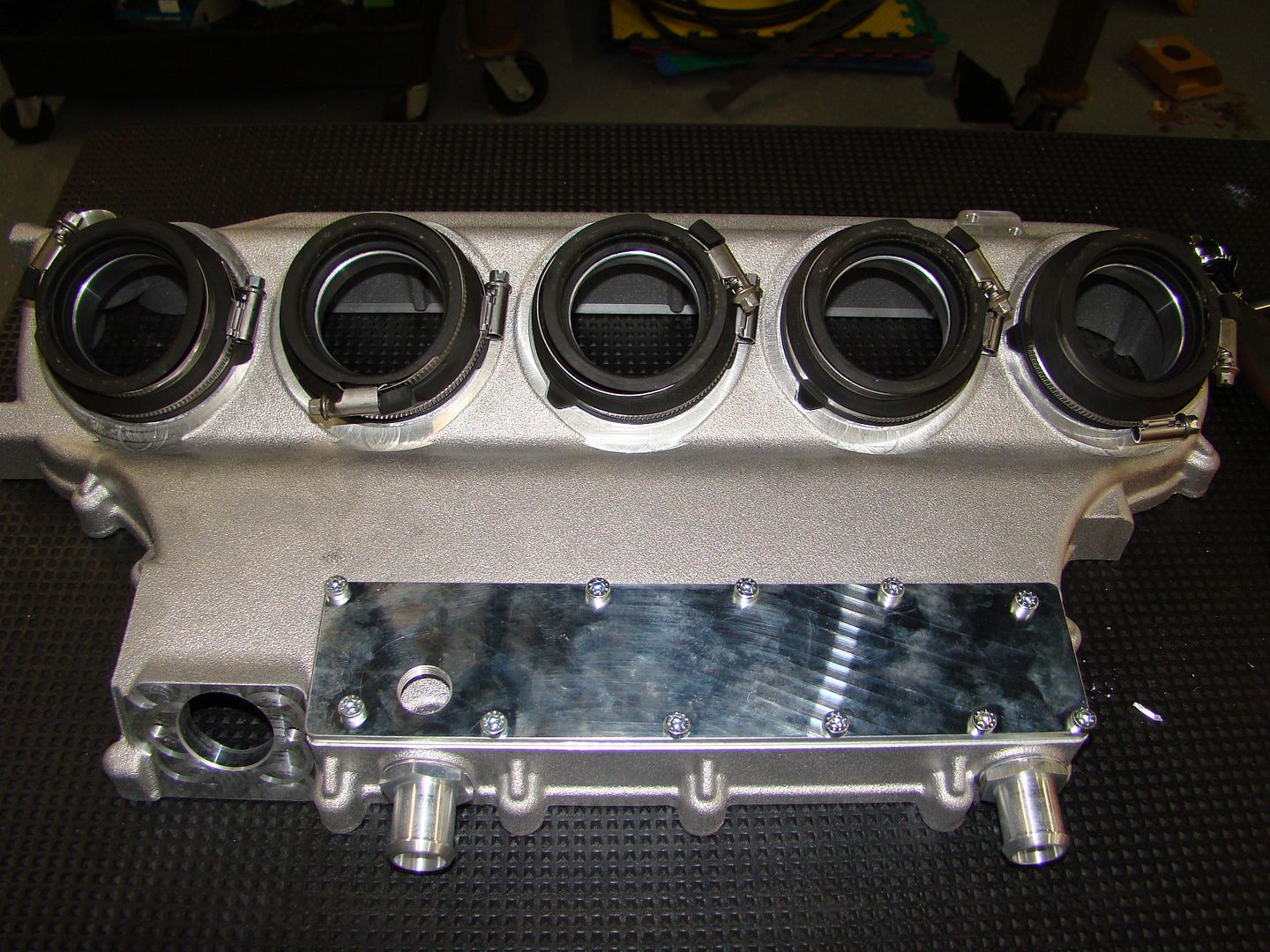 Intake manifold bottoms are on!
With this out of the way, and the radiator back in the car, it's time to assemble the superchargers, clock them in the correct position, assemble the carbon airboxes to the superchargers, and mount the brackets on them.
put the orange tops on the intake manifolds.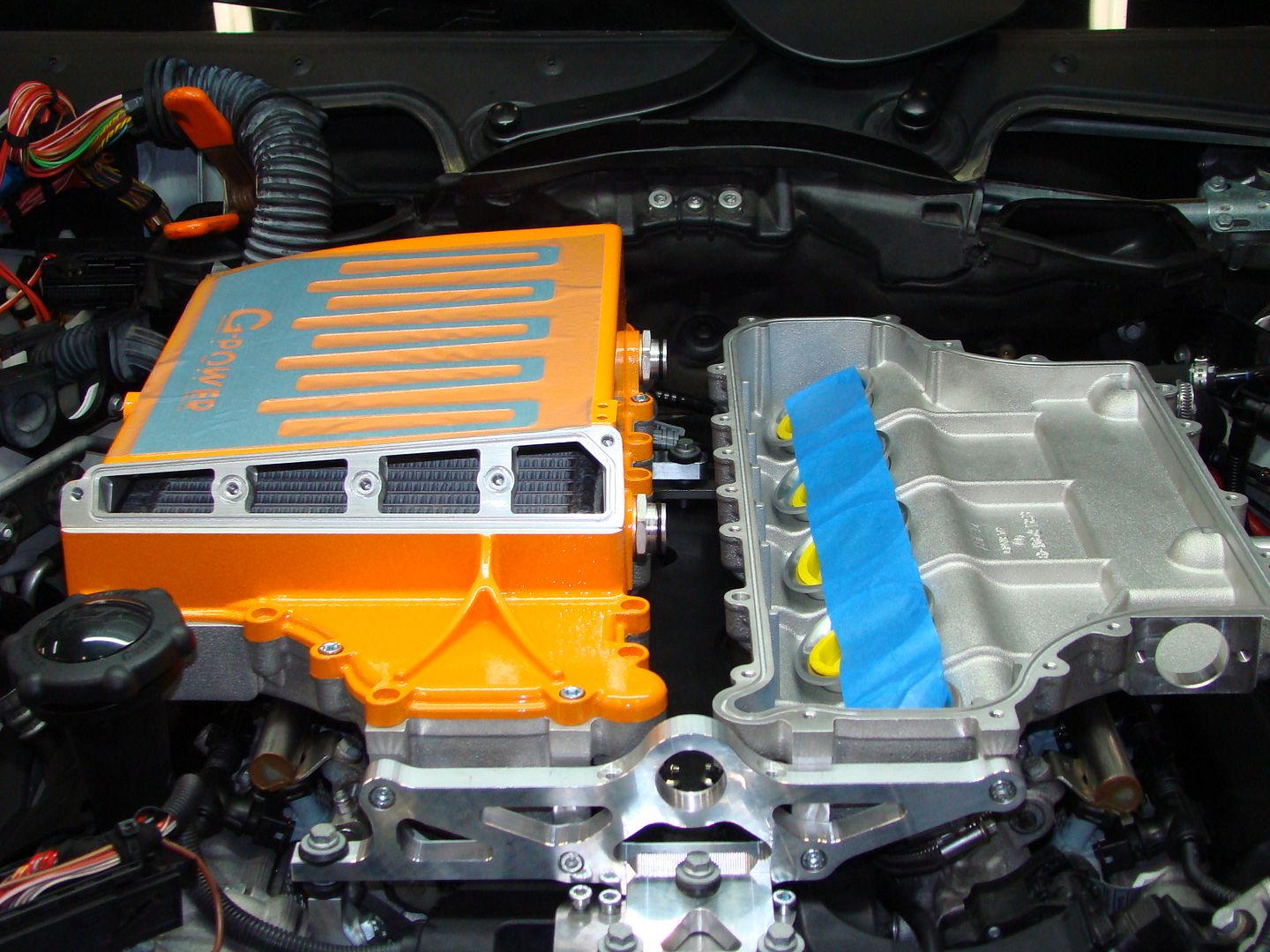 The water reservoir for the charge cooling system sits in between the orange manifold tops. Here's something you'll rarely get to see off the car, and it is a REALLY nicely milled piece.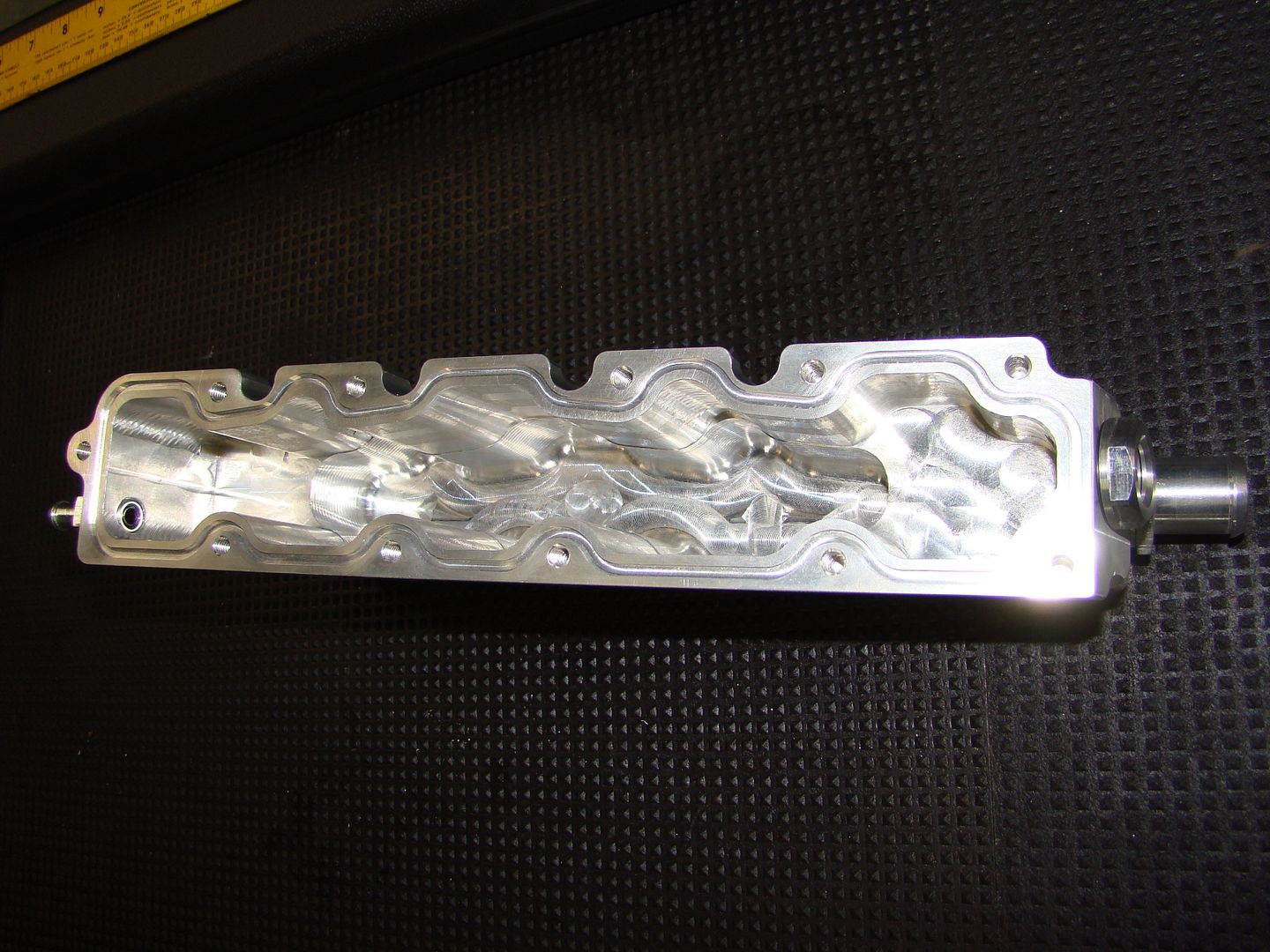 Getting all the bolts around the manifolds snugged up and tight to ensure a seal.
Now the top is done and the reservoir is in place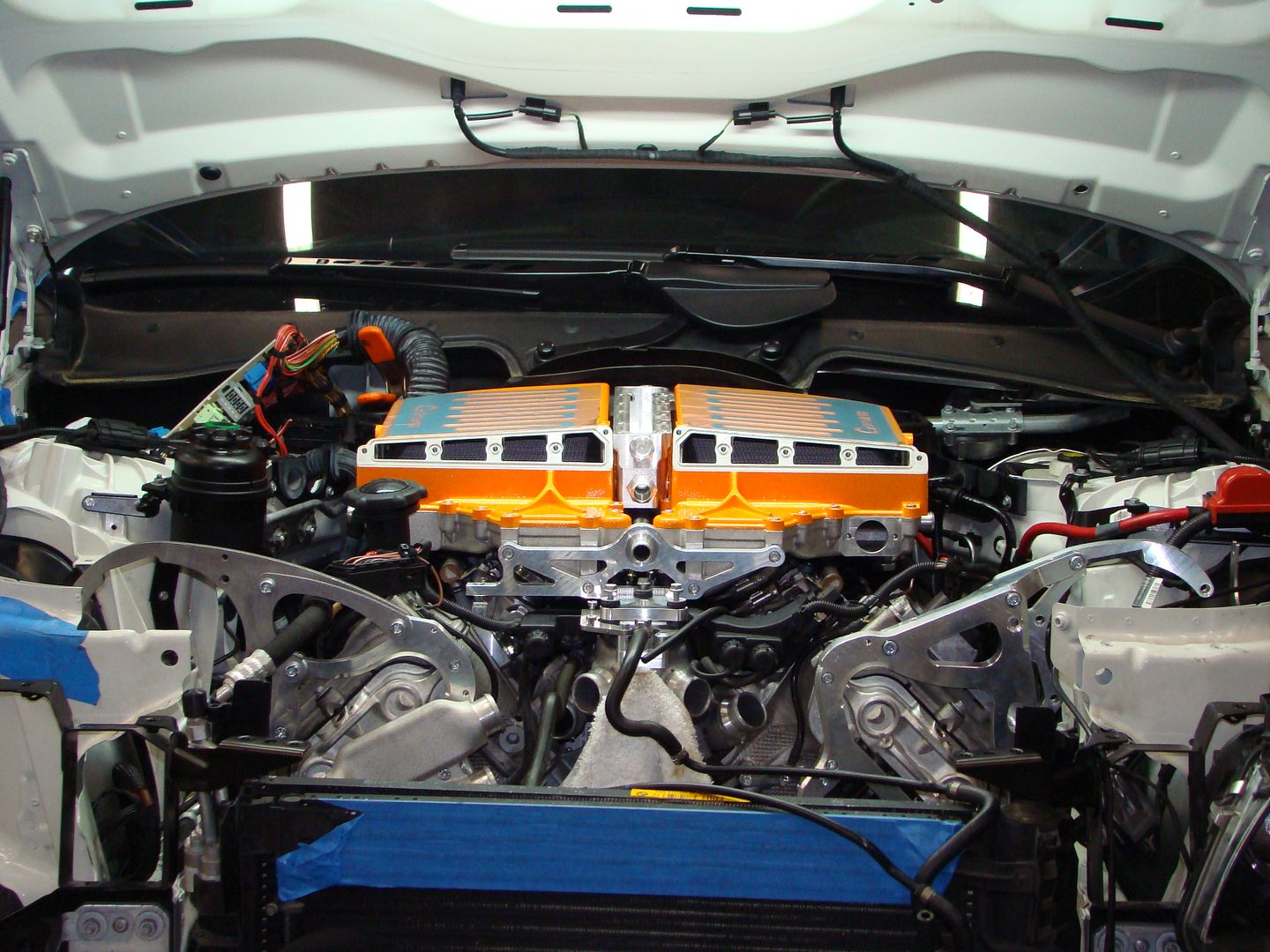 Now we fit this adaptor piece with 2 o-rings from G-Power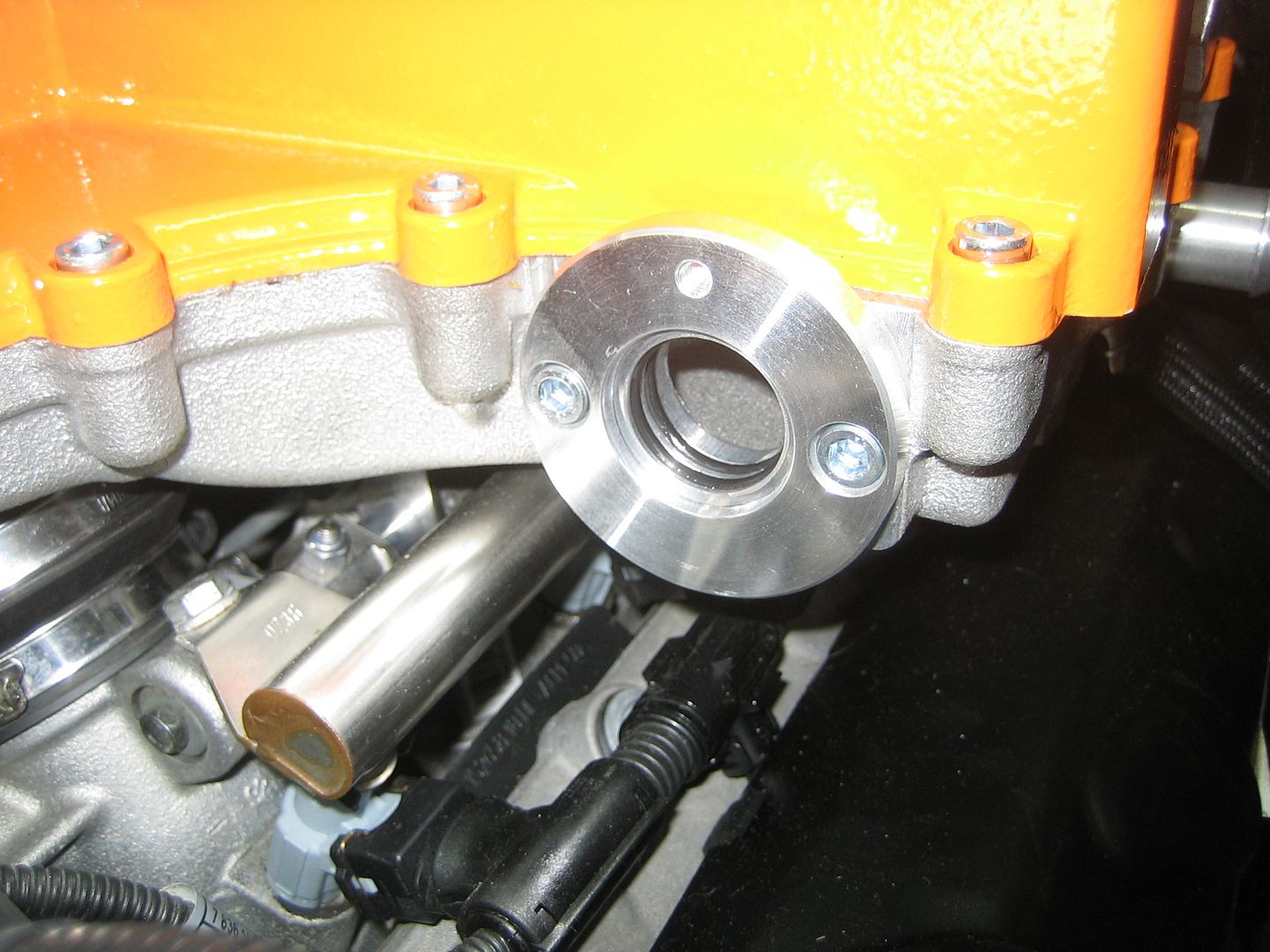 Pop the valve in place. . .
Again, G-Power being over the top. this small stainless piece to keep the valve straight and in place on the manifold
Delicate carbon airboxes taped up for installation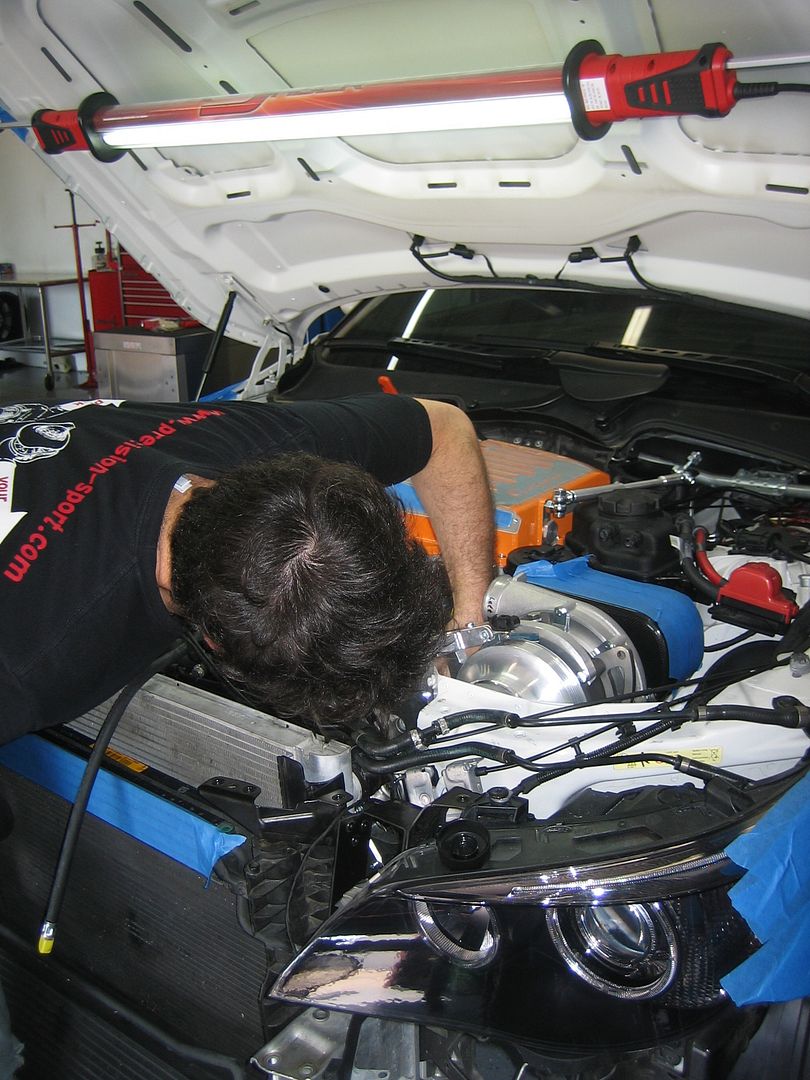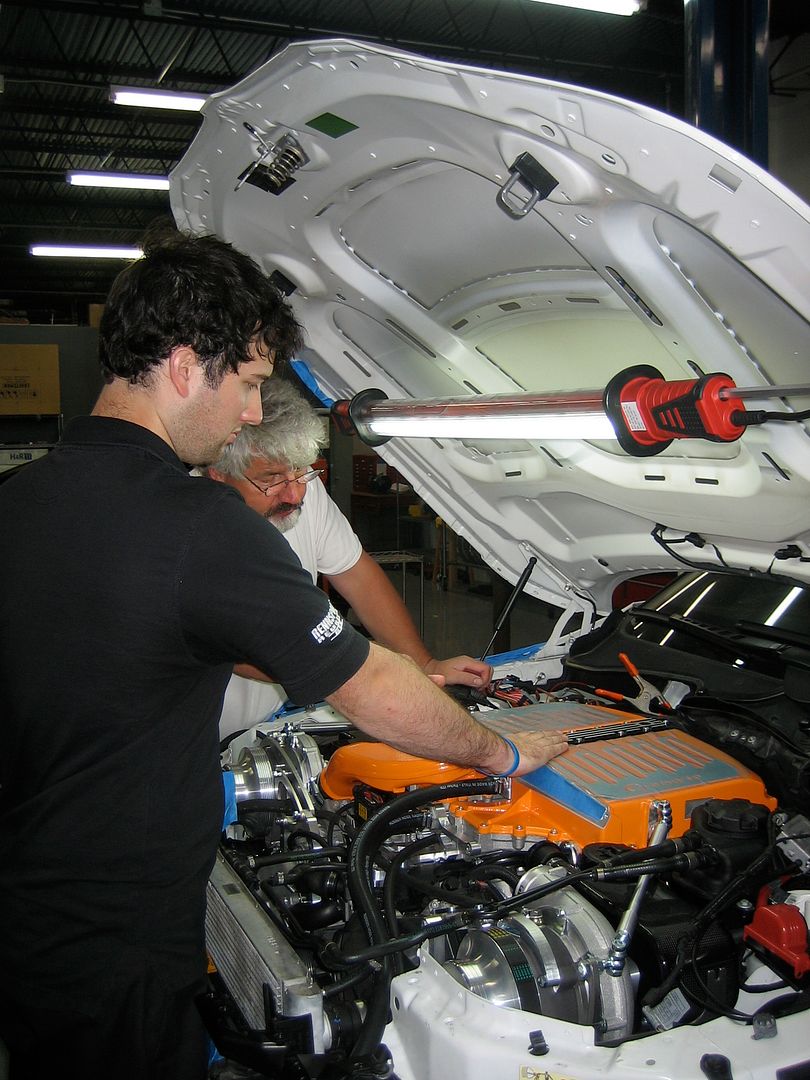 Bracket for the radiator in place, just now waiting on some wiring to be completed and we will run the lines for the charge cooling system