Did this last night.
Running MS109 fuel, I started off with a modified Stg 1 map which made ~375whp on our 6MT test car. I did not start off with the usual Stg 3+ map that makes considerably more power. The idea behind running nitrous, as I see it, was to not have to squeeze out max power from the turbos. So the results below are no means a max power tune. The only thing the runs share in common is realative boost pressure (peak 12-13psi).
Throughout the course of the night, tested different jet sizes (starting with .18 and ending with .32 with many sizes along the way) and progressive control strategies. This involves different solenoid frequency/duration during nitrous onset to smoothen the transition when nitrous engages. As well as how and when (with respect to RPM), the nitrous disables. You can see the progress below: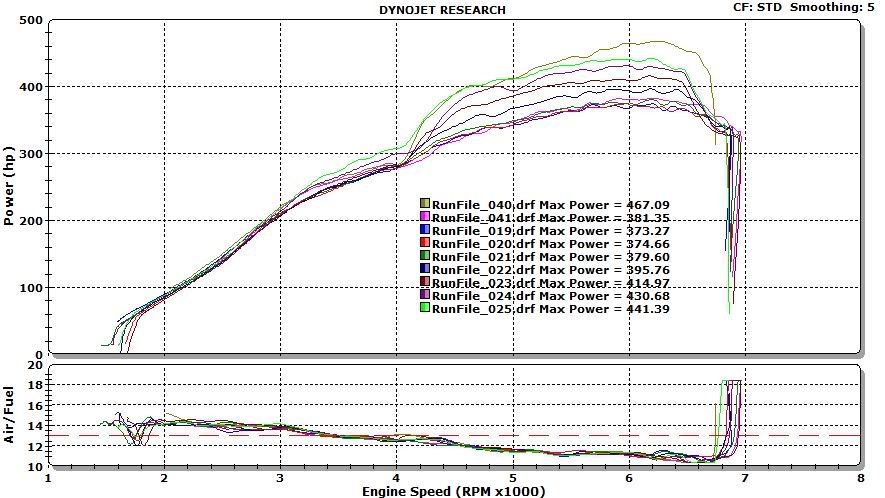 For the time being, I'm kept the activation RPM to 4000rpm. But this can be lowered a bit to 3000rpm or so. In the end, we ended up making an additional ~90whp while still keeping the turbos from working too hard. I did notice that the engine was far more responsive to increases in nozzle size at moderate power levels. Above 450whp, the incrmental gains became harder to come by. Yes, it is possible to make another 20-30whp by simply using a larger nozzle but it would take considerably more nitrous to do it. It would appear that the bottleneck is in the exhaust side. And the only thing there are the turbine housings which, understandably, aren't suited to flow 550+bhp worth of exhaust flow.
But the cool part is not how much power it picked up, but how it picked it up and what safety precautions we have in place to keep everything running safely. And after that, we'll see how it did on the track when subjected to gear changes and various rates of RPM rise. Coming up next...